This is our Local volcanic structure "Mount Warning" (in the background). What is left today is a 23 Million Year old Volcanic Plug however the original volcano would have been twice the height!
---

What is involved in studying Earth & Environmental Science?
The Earth & Environmental Science Course is a 2 Unit BDC. It requires 2 full years of study  during year 11 and year 12. Year 11 is better known as 'Preliminary' and Year 12 as 'HSC'.
Preliminary areas of study (Year 11)
Topic Name in Syllabus
Major Area of Study
Planet Earth & its Environment
A five thousand million year journey
Formation of Earth, Earth structure,
Atmospheres, Beginnings of life, Photosynthesis
 vs Chemosynthesis
The Local Environment
Minerals, Igneous Rocks, Sedimentary
Rocks, Metamorphic Rocks, Deposition,Classification,
Soils, Environments,
Government & Regulation
Water Issues
Water distribution and types,  Oxygen levels
Water and Weathering, Dependence,
Water Cycle and Resourcess
Dynamic Earth
Crustal & Tectonic Plates, Continental Drift,
Boundary types & Characteristics,
Geological Structures &
past Super-continents
HSC areas of study (Year 12)
       Topic Name in Syllabus     

Major Area of Study

Tectonic Impacts   
Volcanoes, Eruptions, Earthquakes, Tsunamis,
Mountain building , Monitoring and Management of Natural Disatsters
 
       Environments through Time               
Development & Diversification of Life, Fossils,
Geological time, Conditions for life,
natural selection and Evolution, Cambrian Event,
Movement of life onto Land
  Caring for Country
Australia's Lands, Soils, Salinity, Pesticides
Environmental flows and chains,
Industrial revolutions, Rehabilitation of Contaminated Sites
OPTIONS
The class will study ONE of the following
Introduced Species
                       & the Australian Environment                                
Survey of Introduced Species, Their impacts, Why
were they introduced, Case study, Rehabilitation
and Regulation, Quarantine methods
Organic Geology - A Non-renewable Resource
Economic Materials form Earth, Fossil fuels and
Formation, Grade and energy density, Searching
for fuels, coal and oil uses, Impacts of use,
alternate energy sources.
Mining & the Australian Environment
Geological Formations, Precious and Economic
Minerals, Mining Laws, Viability of Mining,
Exploration and Evaluation of Mineral Ores,
Environmental impacts
Oceanography
Origins and changes in Oceans, Links to Plate
Tectonics, Physical chemical and Biological
differences in Past and Previous Oceans, Pollution, Ocean currents, Biological Communities,
Hydrothermal Vents, Ocean Sediments, Oceanographers
 
 
The full description of the content and skills can be viewed in the Earth & Environmental Science Syllabus
 
The Earth & Environmental Science Course is a very exciting and Practical course. Students that enjoy getting out into their environment and solving ancient mysteries often make excellent Earth & Environmental Science students. They can use Logic and Sequencing to help solve problems and are good with their hands and proficient with setting up equipment.
Due to the nature of the Earth & Environmental Science Course, students need to be dedicated learners and prepared to work very hard in order to improve. This is both an academic and practical course which requires continual effort to master. In addition, students will need to be highly organised. Some of the best students in Earth & Environmental Science are logical, predictive and persistent.  "Out of the box' thinking is also a key part in solving problems in the Earth & Environmental Science Course.
Earth & Environmental Science is mostly about understanding concepts and using skills to interpret observations in the real world. In Earth & Environmental Science, trip out into the local environment are compulsory so be prepared for some excursions! Here are some students observing sedimentary structures at the derelict Bexhill Brick Works Quarry and some Igneous Structures at Minyon Falls in the Whian Whian State Park.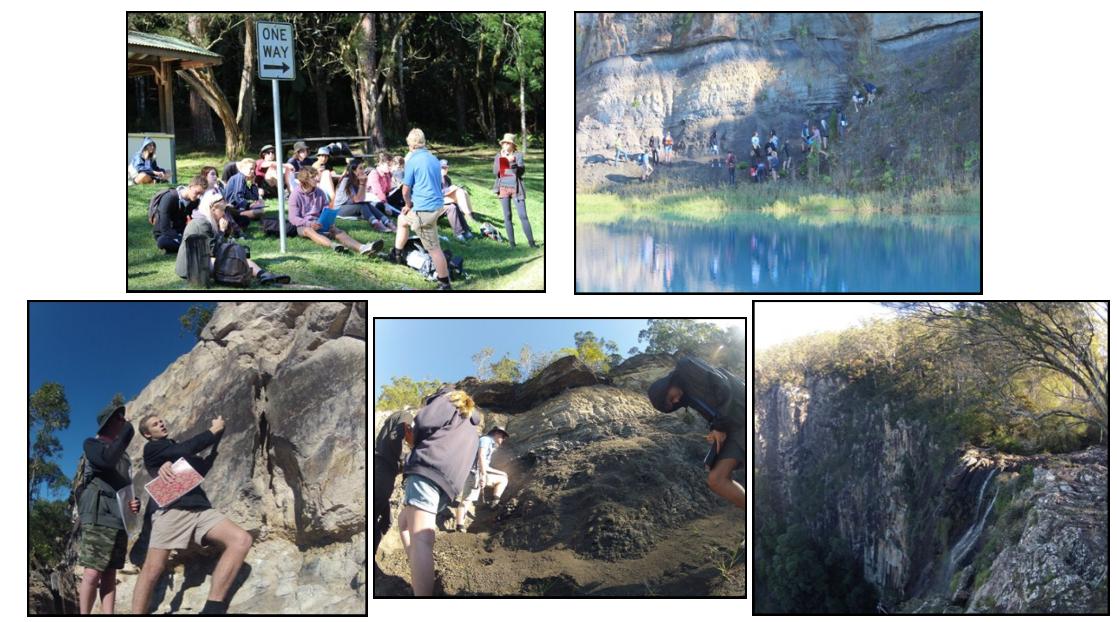 It is expected that students complete the coursework in class time. Homework is sometimes set for students on areas that require additional student focus. 
What career opportunities does Earth & Environmental Science produce?
Earth & Environmental Science is a very diverse area in which to study. The content and skills learned in this course are highly transferable and are valued in leading professional communities. Earth & Environmental Science can be an entry point to any field of Science, Geology, Archaeology or Engineering. Please have a look at Earth & Environmental Science Bullseye (pdf 144 KB) 
New career opportunities are emerging all the time. Some of the more recent additions in the field of Earth & Environmental Science include the areas of Renewable Energy Sources and Eco-designs.
This Artificial Leaf is a great example of how renewable energy technology can be developed and used. It all starts with students interested in Earth & Environmental Science here at school. Many Universities pride themselves in offering new and exciting courses which give their graduates a very strong awareness of their environment and the impact they can have on its future. We all have the ability to impact on the world so lets make our mark positive. What will you invent?
Talk to Mr Hawkins about Earth & Environmental Science if you think you may be interested.