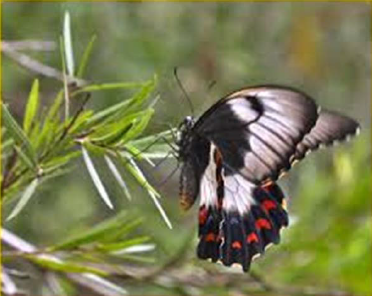 Agriculture is an 'on-farm' environment-oriented course. The HSC course examines the complexity and scientific principles of the components of agricultural production and places a great emphasis on farm management to maximise productivity and environmental sustainability.
This is one of our local butterflies - the female Orchard Swallowtail Papilio aegeus- at the Byron Bay High School Agriculture Farm in a flowering herb garden. It is resting on a rosemary plant propagated by students. They love citrus trees and frequent the school orchard where they do very little damage before they metamorphise into these glorious butterflies. Harmful pesticide sprays are not used so our European bees; many native bee species and other pollinating insects are a welcome part of the farming system. Agriculture and the Environment must coexist.
What is involved in studying Agriculture?
The Agriculture Course is a 2 Unit BDC. It requires 2 full years of study during year 11 and year 12. Year 11 is better known as 'Preliminary' and Year 12 as 'HSC'.
Preliminary areas of study (Year 11)
Topic Name in Syllabus

Major Area of Study

Overview

Agricultural Systems
Agricultural History
Social aspects surrounding agriculture

Plant production

Plants and their commercial production
Animals, climate and resource interaction
Microbes, invertebrates and pests
Technology

Experimental design and research

The farm case study

The farm as a unit of production
Farm management

Marketing

Farm technology
The agricultural workplace

Animal Production

Animals and their commercial production
Plants, climate and resource interaction
Microbes, invertebrates and pests
Technology

Experimental design and research
HSC areas of study (Year 12)
Topic Name in Syllabus 
Major Area of Study
Plant/Animal Production 

Soil, nutrients and water

Factors contributing to the degradation of soil and water

Sustainable resource management

Plant production systems

Constraints on plant production

Managing plant production

Animal nutrition

Animal growth  and development

Animal reproduction and genetics

Animal pests and diseases

Animal ethics and welfare

Experimental analysis and research in plants/animals

Farm product study 

The farm as a business
Decision-making processes and management strategies
Agricultural technology
Marketing of a specific farm product

Elective- Agri-food, Fibre and Fuel technologies

Food safety and labelling

Biosecurity
Ethical issues surrounding the use of genetically modified organisms,
Environmental and social issues related to land use for food or biofuel production
The full description of the content and skills can be viewed in the Agriculture syllabus
The Agriculture Course is a very unique and important course. Students that appreciate getting out into a farm environment and activities with animals and plants will enjoy Agriculture. It is a course that is relevant to everyone as it involves considering ways to solve critical problems including local and global food security; animal welfare; land conservation and the interaction of agriculture and the environment. Students who have studied Agriculture are young people that society needs for a sustainable future. It is not just for those who are wanting to work on farms. 
The Agriculture course is both academic and practical and caters for a wide range of interests. It contributes to the ATAR of the student and can both satisfy a higher level of academic learning as well as the application of what is learnt in practical activities. Students need to be prepared make a dedicated commitment to complete the course requirements with effort and diligence. Successful students will develop skills of self- motivation and organisation. They will be young people willing to discuss and evaluate ethical and social issues that are vitally important to society as a whole, which are often misunderstood or overlooked, in order to make a difference.
The relevance of the Agriculture course to the real world is supported by a daily review of news topics in the media. The inclusion of a case study of a local dairy provides a fun excursion for hands on large animal management and to learn first-hand from an experienced local farmer about how to farm sustainably. This is extended to an excursion for the HSC to see the farm product milk processed into ice cream and other products. Learning how to make farmhouse cheese is also practiced. Other interesting excursions can support building an understanding of Agricultural enterprises. Pictured are some happy students at the Wadsworths Dairy, Coorabell.
What career opportunities does Agriculture produce?
The Agriculture Stage 6 course caters for a diverse range of students and ability levels. It provides opportunities for multiple pathways to employment and further education. While the relevance of the course is not limited only to those who will follow a career in this field, some students have been stimulated to move into post-secondary agricultural courses or to seek employment in rural and related industries. Some students of Byron Bay High School have gone on to study Agriculture courses at institutions such as Tocal Agricultural College; University of New England and University of Queensland. A wide skills base in Science and Technology is achieved that can be transferrable to other courses. The demand for Agriculture graduates by employers far exceeds supply. New career opportunities are emerging all the time. Our world is always going to need food and so we need the people and resources to sustainably do this. New computer, satellite, robotic and biological technologies are on the cutting edge of farmers and scientists responses to changing economic, social and climatic conditions. The people of this generation will be faced with many challenges and significant and continuous change is needed.
Some of the more recent additions in the field of Agriculture include the areas of Biotechnology. The elective explores ways agriculture is able to improve productivity using biotechnology and assist in the creation of an environmentally sustainable future for agricultural production.
Talk to Mr. Hawkins and Mrs. Woodward about Agriculture if you think you may be interested.